5 DIY ideas for a Coastal Christmas
5 DIY ideas for a Coastal Christmas
Many people venture to the coast to escape the snow and chill that's common during the holidays. But even if traveling is not an option, or if you just love the beach lifestyle, you can bring a little "Sea"-sons greetings to your Christmas decor. Be inspired by the natural iridescence of seashells, the soft weathered white of sun bleached coral and the cool tones of the shoreline. Here are a few simple DIY projects you can do to have a very merry coastal Christmas! 

Driftwood Tree
Instead of the traditional pine or fir tree, why not try making a simple one out of pieces of 
driftwood
. Start with a 
wood dowel
 cut to your desired height. Glue your dowel with to a wood base. Then layer on pieces of driftwood starting with the largest and longest pieces at the bottom, and work your way to the top with the smallest. Decorate your 
driftwood tree
 with a variety of seashells as ornaments, and top it off with a starfish!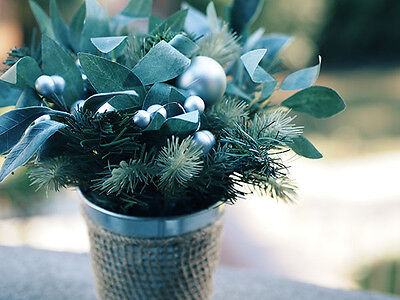 Galvanized bucket centerpiece
Take a cue from the fisherman's warf and use a 
galvanized bucket
 to hold a centerpiece. Create a bouquet inside the bucket by adding silvery gray eucalyptus branches. Next, incorporate a few sprigs of pine branches and mix in a few 
silvery metallic ornaments
. Finally wrap the bucket with a piece of 
burlap ribbon
 for a festive rustic look.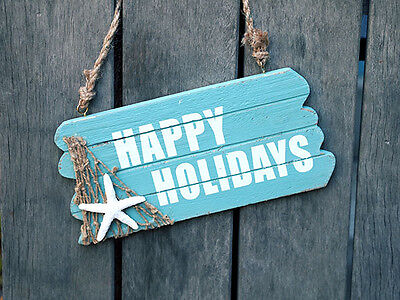 "Sea"-sons Greetings sign
Greet guests with some seaside greetings by making a simple sign using 
scrap wood.
 Give your sign a base coat of light blue paint. Once dry, roughly sand it down for that sea-worn weathered look reminiscent of old boats and piers. Include a holiday greeting in white paint. Finally, add a few seashells, starfish, and sprinkle a little iridescent glitter for added magic.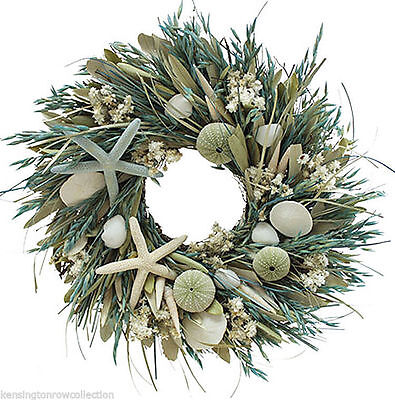 Seashell wreath
Creating a coastal themed holiday wreath is super easy to do. Start with either a 
pre-made seashell wreath
, or make your own using a few pine branches.- Tie the branches together using some wire. Another idea is to use a wreath of 
grapevine branches.
 You could leave them natural or spray paint them white. Then layer on an assortment of silver, clear, light blue bulb ornaments and hot glue some seashells and starfish. Finish it off with a sprinkle of iridescent glitter.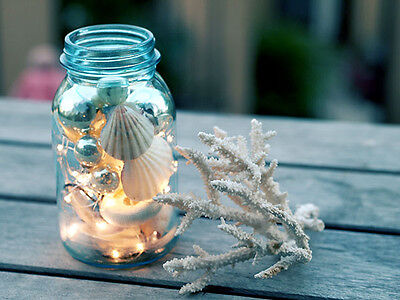 Sparkling Mason Jar
Make a fun piece for your mantle or line a pathway with these easy to create sparkling mason jars. First get some medium to large sized 
blue tinted mason jars
. Insert a 
battery powered LED light string
. Then mix in various sizes of white seashells and small silver, white, and clear bulbs.